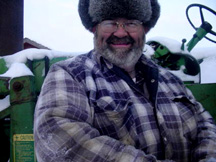 DON'S VINTAGE SNOWMOBILE PARTS
My name is Don Coleman, and Iíve been riding and salvaging vintage
snowmobiles for over 35 years. I repair and salvage old sleds locally and
ship parts worldwide. There isnít much I havenít seen when it comes to
antique snowmobiles!
For you old sledders out there, I used to have a website named
Donís Vintage Snowmobiles, several years ago now.
Iím back now, with my own domain and rebuilding my website, so stay tuned
for updates Ė including a Vintage Snowmobile Discussion Forum dedicated
to vintage and antique snowmobiles, featuring a Free Classifieds Section.
Also in development is a Vintage Sled Photo Gallery with photos of my own
sleds, and user submitted photos of your old snowmobiles and a
ďVintage Snowmobiles on the WebĒ Directory.

---
I AM A VINTAGE SNOWMOBILE ENTHUSIAST AND WRECKER
SPECIALIZING IN MAKES AND MODELS 1985 AND OLDER
WORKING FROM MY FAMILY FARM IN WAINWRIGHT, AB,
I RESTORE, REPAIR AND COLLECT VINTAGE SNOWMOBILES.
I LOVE OLD SLEDS AND LOVE TO SHARE MY INTEREST WITH OTHERS.
IF YOU NEED A PART FOR YOUR SLED OR
IF YOU CANNOT SOLVE A PROBLEM, PLEASE EMAIL ME.
DON COLEMAN
TEL # 780 755 2258

---
ON A PERSONAL NOTE, I WAS HAVING TROUBLE WITH MY REWIND FOR MY
1974 PANTHER VIP. I SENT IT TO DON, HE CLEANED UP THE WHOLE UNIT,
REBUILT THE REWIND FOR ME AND MAILED IT BACK TO ME IN A SHORT PERIOD.
IT IS HARD TO FIND PEOPLE WHO HAVE THE KNOWLEDGE OF THESE OLD SLEDS
AND KNOW HOW TO SERVICE THEM PROPERLY. DON USED TO BE A MOTO SKI
DEALER IN THE MID 70'S BUT NOW SERVICES ALL BRANDS OF SLEDS.
DON ALSO HELPED ME GET MY 1977 SKI DOO EVEREST RUNNING. HE HELPED ME
CONVERT MY TILLOTSON CARB TO A MIKUNI AND MY SLED NOW WORKS GREAT.
DAVID S.