DAVID'S VINTAGE SNOWMOBILE PAGE
PHOTO PAGE 9952
POLARIS SELLS TO TEXTRON AND
SEE POLARIS HISTORY BELOW.
POLARIS INDUSTRIES CANADA AND POLARIS INDUSTRIES USA
TO BE SOLD TO
TEXTRON CORPORATION. SHAREHOLDERS WILL VOTE.
INCLUDED IN THE DEAL IS THE PLANT IN BEAUSEJOUR MANITOBA, CANADA
TO SEE A BROCHURE OF THIS BRAND OF VINTAGE SNOWMOBILE
ON MY SITE, GO TO THE BROCHURE PAGE.
PLEASE DONATE TO SUPPORT THIS SITE.
CLICK ON THE PAYPAL DONATE BUTTON.
THE COST OF RUNNING THIS SITE GOES UP EACH YEAR.
A DONATION OF $ 5, $ 10, OR $ 20.00 GOES A LONG WAY.
ANY CONTRIBUTION IS GREATLY APPRECIATED.
THANKS - DAVID

EXPO-SNO
VINTAGE SNOWMOBILE SHOW

---
EXPO-SNO
IS A FALL
VINTAGE SNOWMOBILE SHOW & FLEA MARKET.
---
IT IS LOCATED JUST NORTH OF MONTREAL
IN ST EUSTACHE, QUEBEC.
---
CLICK HERE
FOR THE DATE
&
ALL OF THE DETAILS ABOUT THE SHOW.

EXPO-SNO
EXPOSITION DE MOTONEIGES ANTIQUES ET CLASSIQUES
ET MÉGA MARCHÉ AUX PUCES
DE PIECES ET MOTONEIGES.
À L'AUTODROME - ST EUSTACHE, QUÉBEC.
L'EXPOSITION EST CHAQUE AUTOMNE.
---
NOUS ESPÉRONS AVOIR PLUS DE 150 MOTONEIGES
ET AUSSI UN AUTRE GRAND SUCCÈS AVEC NOTRE
MÉGA MARCHÉ AUX PUCES DE PIECES ET MOTONEIGES.
---
APPUYEZ ICI
POUR LA DATE & INFO.

VINTAGE SNOWMOBILE, VINTAGE SNOWMOBILES
ANTIQUE SNOWMOBILE - OLD SNOWMOBILE
MOTONEIGE ANTIQUES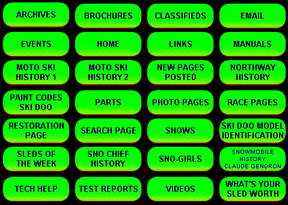 DAVID'S VINTAGE SNOWMOBILE PAGE