PHOTO PAGE 5712
THIS PAGE IS BROUGHT TO YOU BY:

1981 MOTO SKI ULTRASONIC
IMAGE PROVIDED BY:
DOOdecals.com
SKI DOO AND MOTO SKI
DECALS
1960'S TO 1990'S
With 1000s of decals in production and under development
DooDecals.com is a full line provider for
Ski-doo and Moto-ski models 1960's through to 1990's.
1978 Ski Doo Blizzard 6500 Plus
1981 Ski Doo Citation SS
"Over a decade of customer satisfaction".
We also have a FREE webmaster DYI
promotional banner exchange for any snowmobile site.
CLICK HERE TO SEE MORE DECAL SAMPLES.
CLICK HERE TO GO TO DOOdecals.com.

EXPO-SNO
VINTAGE SNOWMOBILE SHOW

---
EXPO-SNO
IS A FALL
VINTAGE SNOWMOBILE SHOW & FLEA MARKET.
---
IT IS LOCATED JUST NORTH OF MONTREAL
IN ST EUSTACHE, QUEBEC.
---
CLICK HERE
FOR THE DATE
&
ALL OF THE DETAILS ABOUT THE SHOW.

EXPO-SNO
EXPOSITION DE MOTONEIGES ANTIQUES ET CLASSIQUES
ET MÉGA MARCHÉ AUX PUCES
DE PIECES ET MOTONEIGES.
À L'AUTODROME - ST EUSTACHE, QUÉBEC.
L'EXPOSITION EST CHAQUE AUTOMNE.
---
NOUS ESPÉRONS AVOIR PLUS DE 150 MOTONEIGES
ET AUSSI UN AUTRE GRAND SUCCÈS AVEC NOTRE
MÉGA MARCHÉ AUX PUCES DE PIECES ET MOTONEIGES.
---
APPUYEZ ICI
POUR LA DATE & INFO.

VINTAGE SNOWMOBILE - VINTAGE SNOWMOBILES
ANTIQUE SNOWMOBILE - OLD SNOWMOBILE
MOTONEIGE ANTIQUES
PLEASE SUPPORT THIS SITE.
A DONATION OF $ 5 OR $ 10 GOES A LONG WAY.
ANY CONTRIBUTION IS GREATLY APPRECIATED.
THANKS - DAVID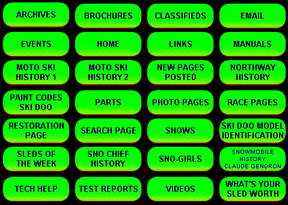 DAVID'S VINTAGE SNOWMOBILE PAGE