PHOTO PAGE 4355
SOMEONE EMAILED ME ASKING FOR A PICTURE OF THIS SLED.
I HAVE NOW FOUND THE BROCHURE.
1990 SKI DOO ALPINE ll
EXPO-SNO
EXPOSITION DE MOTONEIGES ANTIQUES ET CLASSIQUES
ET MÉGA MARCHÉ AUX PUCES
DE PIECES ET MOTONEIGES.
À L'AUTODROME - ST EUSTACHE, QUÉBEC.
L'EXPOSITION EST CHAQUE AUTOMNE.
---
NOUS ESPÉRONS AVOIR PLUS DE 150 MOTONEIGES
ET AUSSI UN AUTRE GRAND SUCCÈS AVEC NOTRE
MÉGA MARCHÉ AUX PUCES DE PIECES ET MOTONEIGES.
---
APPUYEZ ICI POUR INFO.
VINTAGE SNOWMOBILE - VINTAGE SNOWMOBILES
ANTIQUE SNOWMOBILE - OLD SNOWMOBILE
MOTONEIGE ANTIQUES
PLEASE SUPPORT THIS SITE.
A DONATION OF $ 5 OR $ 10 GOES A LONG WAY.
ANY CONTRIBUTION IS GREATLY APPRECIATED.
THANKS - DAVID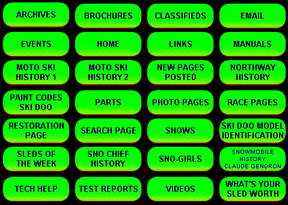 DAVID'S VINTAGE SNOWMOBILE PAGE