Photo Page 336
MOTO SKI RACING 1965 - 1971
DURING THE NEXT WEEK, I WILL BE POSTING MANY RARE PHOTOS
SENT TO ME BY GEORGE DUFRANE JR. FROM THE EARLY 60'S TO THE
EARLY 70'S. ALSO, AN INSIDE LOOK AT THE HISTORY OF MOTO SKI
FROM GEORGE DUFRANE SR. ALL PHOTOS PROVIDED ARE COURTESY
OF MRS. HARRIET DUFRANE, WIFE OF THE LATE AL DUFRANE.
Moto-Ski had a factory racing team in '65 and won the Kawartha Cup in Peterborough, Ontario for the world championship. My father at Dufrane Motor Distributors had his own racing team and took his racing sled to the factory (a Zephyr) and beat all their factory machines, even their 4 cylinder Hirth.
Maurice Dionne with his Kawartha Cup Champion Sled.
My dad George Dufrane Sr. beat this sled at the factory with his Zephyr.
This showed them what engine modifications really were.
1965 Moto Ski

---
My dad and Charles Grimshaw, his machinist friend, did some of the first over bore, porting, clutching and suspension work on ANY sled. At Dufrane Motor Distributors they had a 4-cylinder Hirth made for a Drone Glider aircraft and in January 1966 it was clocked with a stopwatch at 69+ MPH. That was pretty fast in 1966. This same engine was not disassembled and run for another 10 years.
---
In 1967 my dad and friend made the engines that would become the 317 and 634 Hirth. They bored a 15HP 300cc cylinder 100 thousandths over size opening the ports adding more ports. The cylinder was sent to Montreal and the bore was chrome plated. My father raced it all season and it didn't blow. This machine was clocked at 60MPH in January 1967 by a stopwatch in Saranac N.Y. It won the world's fastest mile in the 300cc class. The Hirth 317 was born when he went to Germany and showed the engineers at Hirth his cylinder. Hirth used aluminum cylinders with chrome bore on their cylinders so heat would escape. This same design including the piston-port was used on all Hirth engines with chrome cylinders after.
George Dufrane (his sled had the first 317 Hirth).
1967 Moto Ski
---
'69 S/M series was the first factory built racer. It was slightly modified at best with megaphone exhaust out the hood and a sport seat. After much rework Dufrane Motor Distributors won the Northeast USSA championships 1st and 2nd with 634's in Class 4.
''70 S/M series looked different from the stock but still needed work. Some had the first slide-rail suspension. Dufrane Motor Distributors still used bogies. The 340 was powered by a Sachs like the Grand Prix. My dad made one go very well. The factory engineer Charlie Beatty, made an engine called KMS (kebec Moto-Ski) by hand and it was FAST. He hand made only 2. They tried to have cylinders and engines made, but the parts weren't symmetrical. My dad tried to make one go, but was unsuccessful. Charlie told him the cylinders they had made were JUNK. The 340cc and 438cc's were built on Capri chassis and the 634cc and 760cc were on Zephyrs from the factory. Dufrane Motor Distributors used Capri's on all engine sizes.
Dufrane Motor Distributors along with the factory had much success with the 760 JLO. They were always top competitors. Beatty's '70 340 S/M was made of an aluminum body and Jackshaft drive (pre-Bullet).
Credit is due to another DMD employee, Edward Marlowe. His mechanical and machinist expertise was invaluable.
MOTO SKI BULLET
Never had any machine looked so good and been so bad. The Bullet was loosely based on the Rolloflex ( Canadian Arctic-Cat ). It had an 18" track. Charlie Beatty told my dad they drew it on a board, built it and sold it. There was very little or no testing. The factory pulled out of racing at this time. My dad was 41 years old at the time and he was too tired to make one go. He said the 18" track was too heavy as was the sled, the pitch on the front of the track was wrong, the engines were not good and the track wouldn't roll freely. He said you should be able to push it across the floor. Some one must have known what he would have done, because a Bullet finished 2nd or 3rd in Eagle River, Wisconsin World Championships in '71. You had to be up in points just to be invited to race there.
1971 MOTO SKI BULLET
---
1971 MOTO SKI BULLET
CLICK HERE FOR A LARGE PICTURE
---
Top 2 photos are courtesy of Mrs. Harriet Dufrane wife of the late Al Dufrane.
She still resides at her home located in the small hamlet of Constable
only five miles south of the Canadian boarder.
---
MORE TO COME - SOON
I would like to thank George Dufrane Jr. for creating and sending me a wonderful selection
of pictures and the history that goes behind the scenes. Just looking at these pictures, has made me
get a total feel of the excitement there must have been at Moto Ski and Dufrane Motor Distributors.
Thanks also to George Dufrane Sr. and all of those who contributed valuable information.
TO SEE A BROCHURE OF THIS BRAND OF VINTAGE SNOWMOBILE
ON MY SITE, GO TO THE BROCHURE PAGE.
PLEASE DONATE TO SUPPORT THIS SITE.
CLICK ON THE PAYPAL BUTTON.

THE COST OF RUNNING THIS SITE GOES UP EACH YEAR.
A DONATION OF $ 5, $ 10, OR $ 20.00 GOES A LONG WAY.
ANY CONTRIBUTION IS GREATLY APPRECIATED.
THANKS - DAVID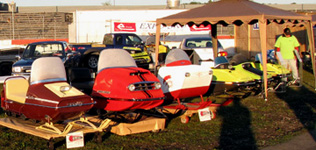 EXPO-SNO
IS A VINTAGE SNOWMOBILE SHOW &
VINTAGE SNOWMOBILE FLEA MARKET.
THE SHOW IS HELD EVERY YEAR IN THE FALL.
IT IS LOCATED IN THE PROVINCE OF QUEBEC, JUST NORTH OF MONTREAL.
FOR THE DATE, LOCATION AND ALL OF THE DETAILS ABOUT THE SHOW.
CLICK HERE
---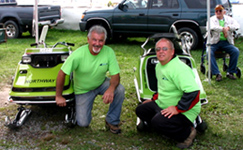 EXPO-SNO
EXPOSITION DE MOTONEIGES ANTIQUES ET CLASSIQUES
ET MÉGA MARCHÉ AUX PUCES
DE PIECES ET MOTONEIGES.
PRES DE MONTREAL, QUÉBEC, CHAQUE AUTOMNE.
NOUS ESPÉRONS AVOIR PLUS DE 100 MOTONEIGES
ET AUSSI UN AUTRE GRAND SUCCÈS AVEC NOTRE
MÉGA MARCHÉ AUX PUCES DE PIECES ET MOTONEIGES.
APPUYEZ ICI
POUR LA DATE, LOCATION & INFORMATION.
VINTAGE SNOWMOBILE, VINTAGE SNOWMOBILES
ANTIQUE SNOWMOBILE - OLD SNOWMOBILE
MOTONEIGE ANTIQUES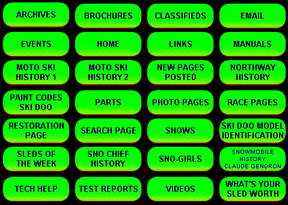 DAVID'S VINTAGE SNOWMOBILE PAGE