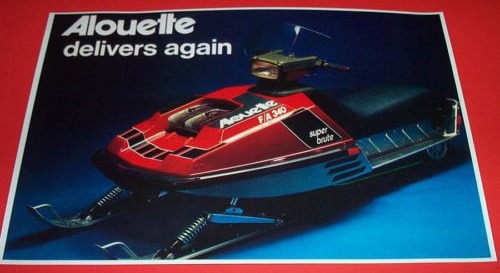 GREGORY MORRIS SENT ME THIS PICTURE.
HE BELIEVES IT TO BE A FREE AIR 1975 ALOUETTE SUPER BRUTE 340
1975 ALOUETTE - SNOWMOBILE.
I AM ASSUMING THAT IT IS A 1975 MODEL.
NO FREE AIR ALOUETTE MODELS WERE IN THE 1974 BROCHURE.
THERE ARE REPORTS THAT NO 1975 MODELS WERE PRODUCED BUT
OTHERS HAVE TOLD ME THAT YES THERE WERE 1975 ALOUETTE MODELS.
THANK YOU GREGORY FOR THE GREAT PICTURE !