PHOTO PAGE 1216
1980 CHRYSLER - SNO-RUNNER
PICTURE SENT IS BY
DAN BOCAIN - EAST DUNDEE IL
THANKS DAN FOR THE GREAT PICTURE!

---
Hi David
For sure this brochure was for the Chrysler Sno-Runner first year production
which was 1980.
As this brochure is titled with '' Introducing Sno-Runnin ''.
Claude Gendron
Thanks Claude for the model year.
TO SEE A BROCHURE OF THIS BRAND OF SNOWMOBILE ON MY SITE,
GO TO THE BROCHURE PAGE.

EXPO-SNO
VINTAGE SNOWMOBILE SHOW

---
EXPO-SNO
IS A FALL
VINTAGE SNOWMOBILE SHOW & FLEA MARKET.
---
IT IS LOCATED JUST NORTH OF MONTREAL
IN ST EUSTACHE, QUEBEC.
---
CLICK HERE
FOR THE DATE
&
ALL OF THE DETAILS ABOUT THE SHOW.

EXPO-SNO
EXPOSITION DE MOTONEIGES ANTIQUES ET CLASSIQUES
ET MÉGA MARCHÉ AUX PUCES
DE PIECES ET MOTONEIGES.
À L'AUTODROME - ST EUSTACHE, QUÉBEC.
L'EXPOSITION EST CHAQUE AUTOMNE.
---
NOUS ESPÉRONS AVOIR PLUS DE 150 MOTONEIGES
ET AUSSI UN AUTRE GRAND SUCCÈS AVEC NOTRE
MÉGA MARCHÉ AUX PUCES DE PIECES ET MOTONEIGES.
---
APPUYEZ ICI
POUR LA DATE & INFO.

VINTAGE SNOWMOBILE - VINTAGE SNOWMOBILES
ANTIQUE SNOWMOBILE - OLD SNOWMOBILE
MOTONEIGE ANTIQUES
PLEASE SUPPORT THIS SITE.
A DONATION OF $ 5 OR $ 10 GOES A LONG WAY.
ANY CONTRIBUTION IS GREATLY APPRECIATED.
THANKS - DAVID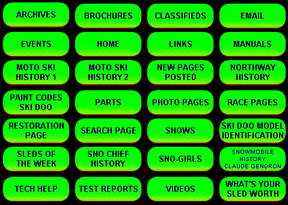 DAVID'S VINTAGE SNOWMOBILE PAGE